I was so excited to get an update from Marilyn Brant. I love her books! Here is her latest book - sounds like a perfect read for this week and the price is fantastic!
Get caught up in a modern romance that -- like the famous Bing Crosby & Fred Astaire film,

"Holiday Inn"

-- takes place over a year of holidays...


Shannon Quinn is the small-town girl who runs "Holiday Quinn" -- a holiday-themed inn based in scenic Door County, Wisconsin.
One winter evening, wealthy Minneapolis businessman, Bram Hartwick, blows into town along with the fast-falling snow.
The sparks Bram and Shannon create succeed in heating up the chilly Midwestern night, not to mention plenty of holiday weekends in the year that follows...
But is their relationship only for special occasions, or might it be the elusive everyday love that neither thought could be found?
Available digitally for just $2.99 at:
"The chemistry that the author created between the two [characters] was raw and sizzled throughout the story. For that alone, this is one worthy read!" ~Bookworm2Bookworm
"Festive, light, and hot – Holiday Man is a terrific and engaging contemporary romance." ~Austenesque Reviews
"I love it when the characters have that chemistry... when their fingers touch, and they feel that tingle. Shannon and Bram have that special magic between them..." ~So Little Time

Pride, Prejudice and the Perfect Match!!
Coming to EBOOK on JANUARY 15th: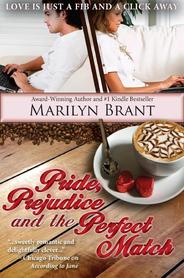 You can check out all the news from Marilyn Brant by visiting her website.