I received this email from Marilyn Brant and was so excited, I wanted to share it with you all. I just purchased mine! Happy reading.....
As part of both a January Reader Appreciation Event and a New Book Release Special, I have TWO $0.99 ebook sales going on this week, and I wanted to make sure you knew about them! Also, to try to keep those of us living in cold climates just a little warmer this month, I've got a Mexican Hot Chocolate recipe below that I hope you might like :).
Reader Appreciation ~

THE ROAD TO YOU

is Only 99 Cents!!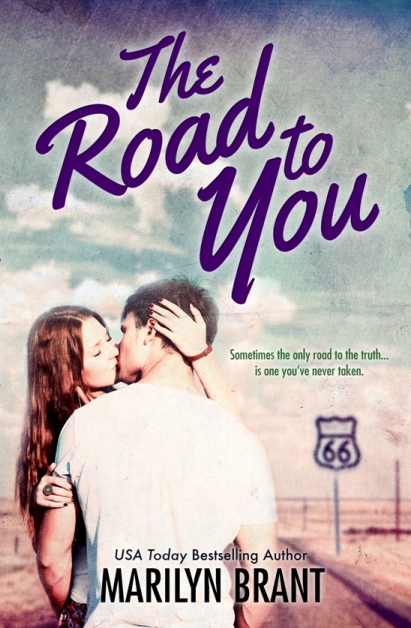 THE ROAD TO YOU
has had a really spectacular reception since its release in late September -- thank you all so much!! This coming-of-age romantic mystery is very close to my heart, and I'm thrilled by the lovely reviews and honors it's received. The novel already has over 120 ratings on
Goodreads
with a 4-star average, and 32 reviews on
Amazon
with a 4.6/5.0 rating, so I couldn't be more delighted.
B&N General Fiction Book Club Moderator and Reviewer for The Reading Frenzy,
Deb Haupt
, named it one of her
"Best Novels for 2013"
and wrote:
"Marilyn Brant's beautifully written new novel takes her talent to a new and darker level. It's a heartrending tale of loss and of love, a masterful mix of mystery and romance with a good dose of a coming of age tale thrown in. Her meticulous and descriptive narrative paints a perfect picture of landscapes and scenes and gives a realistic look at a crime drama from the '70s...and a road-trip on the historic Route 66 that will keep readers on the nail-biting edge of their seats until she decides to solve the puzzle and let her audience breathe again."
As a way of sharing my gratitude with you all, the ebook will be on super sale for just $0.99 (until Wednesday, Jan. 29th) at
Amazon
(worldwide),
B&N
, and
iTunes
.
AND
--
as an extra gift in conjunction with the "Kindle Matchbook" program -- if you buy a
new print/paperback edition
of this book (or have purchased a new paperback copy of this novel through Amazon in the past), you can get a Kindle copy of the ebook for
FREE
during the time of this promotion!!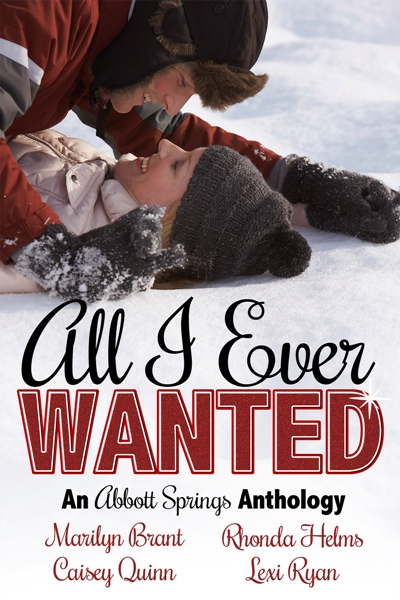 New Release ~

ALL I EVER WANTED

is Out Now!
ALL I EVER WANTED is a fun, light, and sexy winter anthology that I took part in creating with three writing friends. My romantic novella, "All About Us," is the first story in the collection. All four of our novellas take place in a small Ohio town during the same January weekend. Each short romance can be read entirely on its own, but the characters and events are interconnected. Here's a little bit about my story:
Winterfest is heating up in Abbott Springs...
As the town's yearly festival kicks off, cold days turn into steamy nights, new flames will be ignited, and old romances will be rekindled.
All About Us by Marilyn Brant -- All Sami Abbott ever wanted was permission to be herself. At home, she aims to be the perfect daughter but never measures up. At college, she's the bold girl who had a one-night stand with sexy musician Alex Hamilton. When he arrives unexpectedly in Abbott Springs, her worlds collide and she must reconcile the girl she tries to be with the person she really is.
(The 3 other wonderful novellas in the collection are All I Need by Caisey Quinn, All For Love by Rhonda Helms, and All Or Nothing by Lexi Ryan. Don't miss them!)
In celebration of the release, the ebook version of the anthology is only $0.99 (until Wednesday, Jan. 22nd) at
Amazon US
,
Amazon UK
,
Amazon CA
,
B&N
,
Kobo
, and
iTunes
. Print lovers can buy the paperback at a slight discount right now through
Amazon
, too!
My heroine in the story, Sami, is known throughout Abbott Springs for making delicious Mexican Hot Chocolate. Here's one version of her special recipe: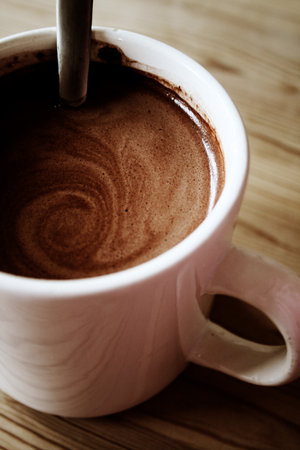 MEXICAN HOT CHOCOLATE
Ingredients
6 (12-ounce) cans evaporated milk
4 teaspoons ground cinnamon
1 tablespoon vanilla extract
1 teaspoon ground nutmeg
Pinch cayenne pepper
2 (12-ounce) bags semisweet chocolate chips
Cocoa powder, for serving
Directions
For stove top: In a large pot over medium heat, whisk together milk, cinnamon, vanilla extract, and nutmeg. Add chocolate chips. Stir until chocolate is melted. Cover and turn heat to low for 5 minutes.
Pour into mugs. Dust the top with cocoa powder & serve!
I hope you'll all enjoy these great deals and the stories attached to them!! Ebooks make thoughtful gifts, too, for friends and family who love to read on their Kindle/Nook/iPad/etc. or on their smart phones. So, if you've already got a copy of
THE ROAD TO YOU
or
ALL I EVER WANTED
, please consider sharing one or both of these with someone you love, especially now when they're less than $1 each!
Many thanks to all of you for your continued kindness, support, and enthusiasm for my stories. I can't express how much I appreciate having such amazing readers!!
With my very best wishes~
Marilyn
***
Marilyn Brant
USA Today Bestselling Author